How to Prediction the Gender Using Python
How to Prediction the Gender Using Python
Hello coder, welcome to the codewithrandom blog. In this blog, we will learn how to Prediction the Gender Using Python built-in Tkinter library. The process of building a gender prediction GUI using tkinter involves creating a simple window and adding various widgets such as entry boxes for inputting data, a button for triggering the prediction, and a label for displaying the predicted gender. Once the GUI is built, it can be used to make predictions on new data by passing the input data to the trained model and displaying the predicted gender on the label.
How To Prediction the Gender Using Python in Tkinter, we need to perform the following steps:
For the Prediction the Gender Using Python project, we need to install Tkinter  GUI. You can install these packages in your terminal.
$ pip install tk
How to Create a Restaurant Management System Using Python
How to Build a Billing Software Application using python | Python Project
step 1: open any python code Editor.
Do you want to learn HTML to React? 🔥
If yes, then here is our Master HTML to React 📚 In this eBook, you'll Get Complete Free Hand Written Notes on HTML, CSS, JavaScript, and React 💪. It includes 450 Projects with source code. and 250+ Most Asked Interview Questions
Get your eBook now! 👇
step 2: Importing the Required Modules.
import tkinter as tk
from tkinter import ttk

step 3: create a function to define gender
def predict_gender(name):
    name = name.lower()
    if name[-1] == 'a':
        return "female"
    elif name[-1] == 'o':
        return "male"
    else:
        return "unknown"

def main():
    root = tk.Tk()
    root.title("Gender Predictor")
    root.geometry("400x200")

step 4: Define labels and entry box for user input
name_label = ttk.Label(root, text="Enter name:")
    name_label.grid(row=0, column=0, padx=5, pady=5)
    name_entry = ttk.Entry(root)
    name_entry.grid(row=0, column=1, padx=5, pady=5)

    result_label = ttk.Label(root, text="Predicted gender:")
    result_label.grid(row=1, column=0, padx=5, pady=5)
    result_entry = ttk.Entry(root, state="readonly")
    result_entry.grid(row=1, column=1, padx=5, pady=5)
step 5: Define the function that will handle the prediction and update the result
def predict():
       name = name_entry.get()
       gender = predict_gender(name)
       result_entry.config(state="normal")
       result_entry.delete(0, tk.END)
       result_entry.insert(0, gender)
       result_entry.config(state="readonly")
step 6: Define the "Predict" button and bind it to the prediction function
predict_button = ttk.Button(root, text="Predict", command=predict)
    predict_button.grid(row=2, column=0, columnspan=2, padx=5, pady=5)

    root.mainloop()

if __name__ == '__main__':
    main()
Here is Final Output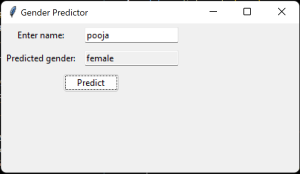 Complete Source Code For Prediction of the Gender Using Python(copy the code and run )👇
import tkinter as tk
from tkinter import ttk

def predict_gender(name):
    name = name.lower()
    if name[-1] == 'a':
        return "female"
    elif name[-1] == 'o':
        return "male"
    else:
        return "unknown"

def main():
    root = tk.Tk()
    root.title("Gender Predictor")
    root.geometry("400x200")

    # Define labels and entry box for user input
    name_label = ttk.Label(root, text="Enter name:")
    name_label.grid(row=0, column=0, padx=5, pady=5)
    name_entry = ttk.Entry(root)
    name_entry.grid(row=0, column=1, padx=5, pady=5)

    result_label = ttk.Label(root, text="Predicted gender:")
    result_label.grid(row=1, column=0, padx=5, pady=5)
    result_entry = ttk.Entry(root, state="readonly")
    result_entry.grid(row=1, column=1, padx=5, pady=5)

    # Define the function that will handle the prediction and update the result
    def predict():
        name = name_entry.get()
        gender = predict_gender(name)
        result_entry.config(state="normal")
        result_entry.delete(0, tk.END)
        result_entry.insert(0, gender)
        result_entry.config(state="readonly")

    # Define the "Predict" button and bind it to the prediction function
    predict_button = ttk.Button(root, text="Predict", command=predict)
    predict_button.grid(row=2, column=0, columnspan=2, padx=5, pady=5)

    root.mainloop()

if __name__ == '__main__':
    main()
Output for Prediction the Gender Using Python👇👇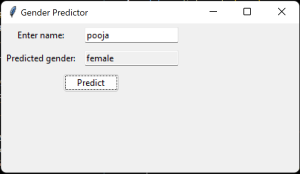 Summary
Hurray! You have successfully Prediction the Gender Using Python. Python can be a powerful tool for building gender prediction models and tkinter can be used to create a simple and user-friendly GUI for making predictions. Hope you enjoyed building with us! Visit our homepage and you get lot's of projects💝