Build A Paint Application in Python Tkinter
Build A Paint Application in Python Tkinter
Hello coders, welcome to the codewithrandom blog. It's time to code in Python. In this article, we create a Most Popular Paint Application using Tkinter GUI in python Programming with Complete Source Code.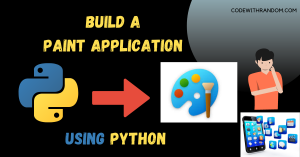 Before Starting Paint Application coding, check this video to know what we are going to make:
Steps for creating Paint Application Using Python :
step 1: open any python code Editor.
step 2: Importing the Required Modules.
For this particular project, we need to install Tkinter packages. You can install these packages using the pip command in your terminal.
Command to install Tkinter :
Do you want to learn HTML to React? 🔥
If yes, then here is our Master HTML to React 📚 In this eBook, you'll Get Complete Free Hand Written Notes on HTML, CSS, JavaScript, and React 💪. It includes 450 Projects with source code. and 250+ Most Asked Interview Questions
Get your eBook now! 👇
pip install tk
step 3: Copy the code for the Paint Application in Python, which I provided Below in this article, and save it in a file named "main.py" (or any other name you prefer).
step 4: Run this  python file main.py to start the Paint Application .
complete code For Paint Application👇👇👇

from tkinter import *
import tkinter.font

class PaintApp:
    
    drawing_tool = "pencil"
    left_button = "up"

    x_position, y_position = None, None

    x1_line_pt, y1_line_pt, x2_line_pt, y2_line_pt = None, None, None, None 

    @staticmethod
    def quit_app(event=None):
        root.quit()

    def __init__(self, root):
        drawing_area = Canvas(root)
        drawing_area.pack()

        drawing_area.bind("<Motion>", self.motion) 
        drawing_area.bind("<ButtonPress-1>", self.left_button_down) 
        drawing_area.bind("<ButtonRelease-1>", self.left_button_up) 

        the_menu = Menu(root)

        file_menu = Menu(the_menu, tearoff=0)
        file_menu.add_command(label="Line", command=self.set_line_drawing_tool)
        file_menu.add_command(label="Pencil", command=self.set_pencil_drawing_tool)
        file_menu.add_command(label="ARC", command=self.set_arc_drawing_tool)
        file_menu.add_command(label="Rectangle", command=self.set_rectangle_drawing_tool)
        file_menu.add_command(label="Oval", command=self.set_oval_drawing_tool)
        file_menu.add_command(label="Text", command=self.set_text_drawing_tool)

        file_menu.add_separator()
        file_menu.add_command(label="Quit", command=self.quit_app)

        the_menu.add_cascade(label="Options", menu=file_menu)
        root.config(menu=the_menu)

    def set_line_drawing_tool(self):
        self.drawing_tool = "line"

    def set_pencil_drawing_tool(self):
        self.drawing_tool = "pencil"

    def set_arc_drawing_tool(self):
        self.drawing_tool = "arc"

    def set_rectangle_drawing_tool(self):
        self.drawing_tool = "rectangle"

    def set_oval_drawing_tool(self):
        self.drawing_tool = "oval"

    def set_text_drawing_tool(self):
        self.drawing_tool = "text"

    def left_button_down(self, event=None):
        self.left_button = "down"
        self.x1_line_pt = event.x
        self.y1_line_pt = event.y 


    def left_button_up(self, event=None):
        self.left_button = "up"
        self.x_position = None
        self.y_position = None

        self.x2_line_pt = event.x
        self.y2_line_pt = event.y 

        if self.drawing_tool=="line":
            self.line_draw(event)
        if self.drawing_tool=="pencil":
            self.pencil_draw(event)
        if self.drawing_tool=="arc":
            self.arc_draw(event)
        if self.drawing_tool=="oval":
            self.oval_draw(event)
        if self.drawing_tool=="rectangle":
            self.rect_draw(event)
        if self.drawing_tool=="text":
            self.text_draw(event)

    def motion(self, event=None):
        if self.drawing_tool=="pencil":
            self.pencil_draw(event)

        self.x_position = event.x
        self.y_position = event.y 

    def pencil_draw(self, event=None):
        if self.left_button =="down":
            if self.x_position is not None and self.y_position is not None:
                event.widget.create_line(self.x_position, self.y_position, event.x, event.y, smooth=True)


    def line_draw(self, event=None):
        if  None not in (self.x1_line_pt, self.x2_line_pt, self.y1_line_pt, self.y2_line_pt):
            event.widget.create_line(self.x1_line_pt, self.x2_line_pt, self.y1_line_pt, self.y2_line_pt, smooth=True, fill="green")

    def arc_draw(self, event=None):
        if  None not in (self.x1_line_pt, self.x2_line_pt, self.y1_line_pt, self.y2_line_pt):
            coords = self.x1_line_pt, self.x2_line_pt, self.y1_line_pt, self.y2_line_pt

            event.widget.create_arc(coords, start=0, extent=150, style=ARC, fill="blue")

    def oval_draw(self, event=None):
        if  None not in (self.x1_line_pt, self.x2_line_pt, self.y1_line_pt, self.y2_line_pt):
            event.widget.create_oval(self.x1_line_pt, self.x2_line_pt, self.y1_line_pt, self.y2_line_pt, fill="midnight blue", outline="yellow", width=2)

    def rect_draw(self, event=None):
        if  None not in (self.x1_line_pt, self.x2_line_pt, self.y1_line_pt, self.y2_line_pt):
            event.widget.create_rectangle(self.x1_line_pt, self.x2_line_pt, self.y1_line_pt, self.y2_line_pt, fill="red", outline="pink", width=2)

    def text_draw(self, event=None):
        if  None not in (self.x1_line_pt, self.y1_line_pt):
            text_font = tkinter.font.Font(family="Helvetica", size=20, weight="bold", slant="italic")
            event.widget.create_text(self.x1_line_pt, self.y1_line_pt, fill="lightblue", font=text_font, text="helloooo!")




root = Tk()
paint_app = PaintApp(root)
root.mainloop()
OutPut👇👇
Conclusion
Hurray! You have successfully Create the Paint Application project using the Python Programming . We learned to create amazing python project. Hope you enjoyed building with us! Visit our homepage and you get lot's of projects💝
How to Create a GUI Calendar Using Python
Build a Tic-Tac-Toe Game Using Python