The rain effect is a form of CSS effect in which we produce a visual rain effect. While there are several methods for creating rain effects on a website, CSS is lightweight and versatile which can be used to create rain effects inside our website.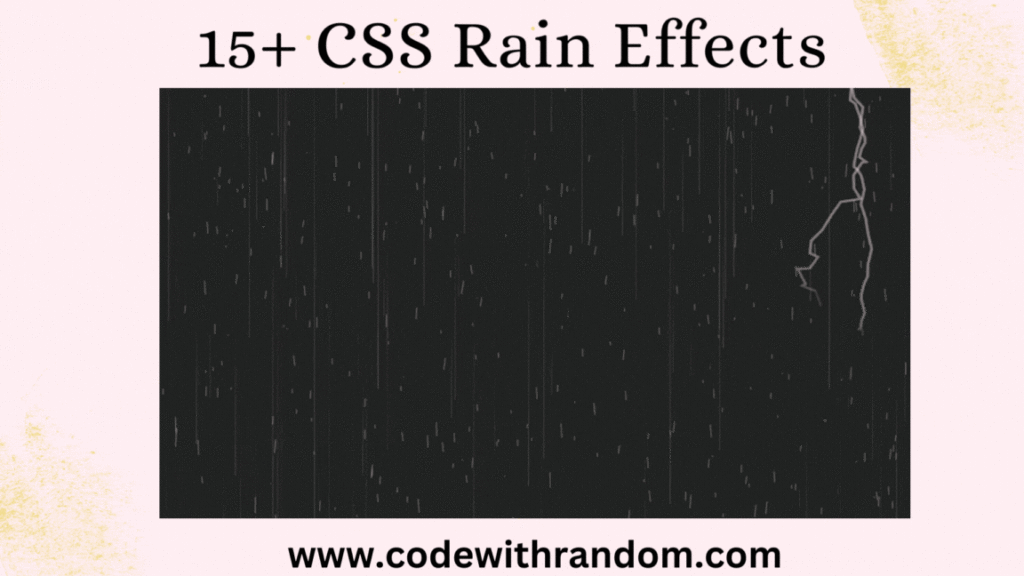 1. Rain with Lightning Effect
2. Rain Animation Effect
3. Rain Animation with thunder Effect
4. Slanting Rain Effect
5. Customizable Rain Effect
6. Driving Car in Rain Animation
7. Simple Rain Effect
8. Matrix Digital Rain
9. Colourful Rain Animation
10. Neon Rain Effect
11. CSS Rain
12. Bike to School on Rain
13. SVG Rain
14. Rain Droplets
15. Increase/Decrease Rain Using Slider
Adding Rain effects using css enhances the visual appearance of our website. Provides a real feel of rain effect on the website which helps in providing a great user experience.
If you find out this Blog helpful, then make sure to search Codewithrandom on Google for Front End Projects with Source codes and make sure to Follow the Code with Random Instagram page.
Follow: CodewithRandom
Author: Arun